New Haven Senior Ministry's Strategy to Reach Out Seniors Bears Fruit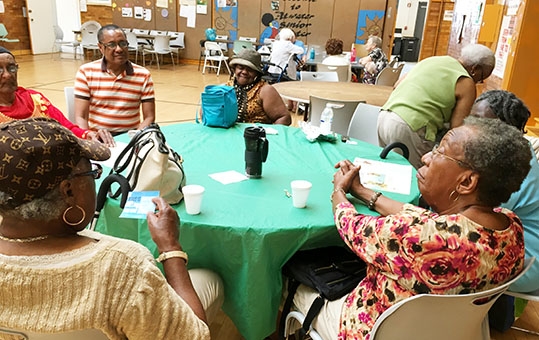 The strategy of the New Haven Senior Ministry to make frequent visits to those places where senior can be found is beginning to bear fruit. On July 14th, the chapter went to visit the Atwater Senior Service Center. It was one more time the local senior chapter visits that center and that a consistent approach to the seniors in the community bore fruit.
This time, even though the seniors were preparing to leave for an activity outside the center, they gave a warm welcome to the chapter members as they have become acquaintances for them. It was possible to interact closely with the center clients, even Bible verses were written to some of them.
Just when the chapter members were leaving the center they came to know an old lady who is under treatment to cure her cancer. She expressed her desire to know more about Jesus and the bible. She received all he information about the church activities, specially the Senior Bible Study its celebrated every Thursday afternoon and she agreed to meet the pastor to receive the grace of the word that she needs so much.
This visit has confirmed the chapter members that by keeping a constant contact with the seniors they will be able to bring to more of them the Gospel of Jesus Christ.